You can cancel all future bundles by heading to your Settings tab and clicking "Edit" in the Account Details section, from there click "Suspend Account," and click through the steps to the "Cancel Plan" button. Once you do so, you will receive an email confirming that you have successfully suspended your subscription.
Please note, the cut-off to cancel an upcoming bundle delivery is 5pm EST the Friday prior to your next delivery date. Please reference the Upcoming Tab your account page for more information.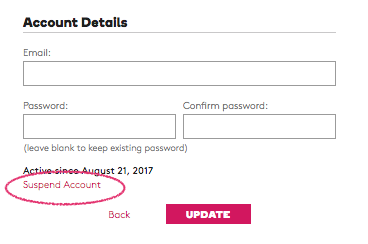 Last step (3 of 3):


When you're ready to subscribe to our bundles again, you can simply log into your account and reactivate!
If you just want to skip a few deliveries, you can do so easily from the Upcoming Tab of your Account Page up until the cut-off time posted there. Simply click "Manage Schedule" in the top right hand corner of a bundle's blue heading bar.