Desktop:
We're sorry to hear that. If any of your groceries are missing or damaged, you can solve that issue immediately through our self-serve Delivery Help Hub. Just click on the delivery that was impacted on your My Hungryroot page, click on NEED HELP? and follow the steps below.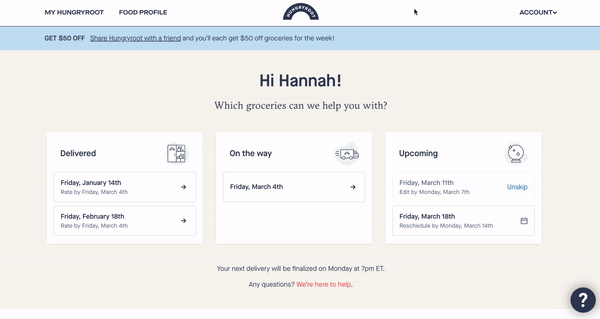 Click Damaged item(s), Missing item(s), or Other.

Select the item(s) that there were issues with and click NEXT.

You'll be prompted to either choose to receive credit in your account or contact our customer care team.

If the applied credit option works for you, you're all set. If you choose to send a message to our team instead, or if more than 3 items were damaged, we'll be sure to get back to you as quickly as possible.
App:
Click on the Eat icon at the bottom, select Help at the top right corner of the screen and follow the same instructions as above.
*Please note that you can go through self-serve only once for the most recent delivery. If you have multiple issues with your delivery, please contact us here.
Any other issues with your delivery? Reach out to our customer care team here. Please be sure to provide details on what the issues are, the names of the affected items, if applicable, and the email address you use for your Hungryroot account. We'll get back to you as soon as we can.